Shelving
Stormor Euro shelving
A storage system for every working environment
Wherever there's a need for storage, there's a job for Stormor Euro Shelving. From stand alone single units to multi-level storage bays, Stormor Euro Shelving is the single, simple-to-use, versatile solution.
Modular in design for ease of assembly, Stormor Euro Shelving offers almost limitless scope for the creation of customised storage facilities; and a complementary range of accessories extends its capabilities still further.
Stormor Euro Shelving features unique shelf support clips that simply slot into place giving firm support for even the heaviest loading requirements, yet allowing for quick and easy repositioning whenever required. Standard shelves will support loads of up to 200kg (440lbs) - and when even that's not enough, there's the option to specify heavy or extra heavy duty for the more demanding storage environment.
Longspan shelving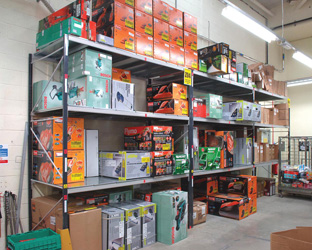 The ultimate versatile heavy duty storage system, Longspan shelving is limited only by your imagination. Whether you're planning a simple low-rise shelving set-up or a large scale heavy duty storage facility, Longspan fits the bill.
If you thought you needed an engineering degree to build shelving, think again. Longspan is ingenious in its simplicity. A small shelf unit can be assembled in minutes, and even the most ambitious schemes are easily realised with Longspan's brilliantly designed clip-together components.
Beams fasten simply and securely onto uprights and are easily adjusted. Easy-to-fit locking clips prevent accidental dislodgement. Once the frames and beams are up, shelving materials simply drop into place and the system's ready to go! Nothing could be simpler.
It's hard to believe that shelving as secure and hard wearing as Longspan can be assembled in such a short time. But once built, Longspan stays built - even in the toughest industrial environments.
For a shelving system that combines quality and ease of assembly, there's only one choice - Longspan. And like every product in our range, it comes with the added reassurance of international quality standards.
Mobile shelving
High-density Storage – up to 300% more space than traditional solutions.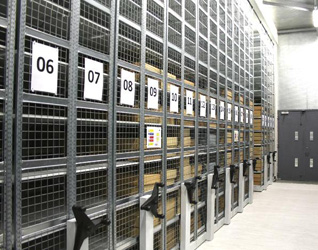 The paperless office has been a point of discussion since Business Week published its visionary article in 1975. Whilst businesses strive to reduce paper use as much as possible there is always a need for storage of some kind, be it archives, contract documents, financial accords or drawings.
Our high-density systems allow you to store far more files, more efficiently, in the same space as traditional four-drawer filing cabinets would occupy. In addition, you can store and retrieve much more than just files; boxes, samples, books, artefacts and other items can all be easily accommodated.
This means you can use more of your valuable office space more profitably. It's a real bonus – no bad thing when you consider Central London rents currently average £500+/square metre.
Do you want to fit more staff into the same space and make your office more productive, and expand as your business grows without taking on more expensive floor space?
It's simple. Our systems remove the need for aisles and use the full height of your office. So you get 100% more storage than static shelving and 300% more than traditional four-drawer filing cabinets.
Latest Shelving Projects...
Industrial partitioning, shelving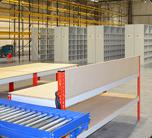 mezzanine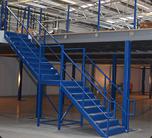 shelving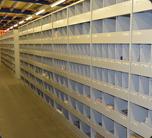 Stormor & Longspan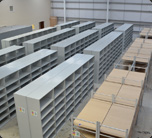 Euro shelving & Longspan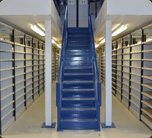 Euro shelving & Longspan
Longspan shelving